Solutions
Copper & Fiber Solutions
Nowadays, minimum data connectivity speed requirement for the Desktops become 1G and the backbone for the Server bank and Inter clusters are being looked out for a minimum of 10G. Laptops are also has come to take both wire and wireless but require more security to protect the flow of data flow to the authorized inmates.

To meet the 1G to the user desktops, CAT6 has come for a secured and protected data flow. CAT6 cable should be laid and terminated as per cabling guidelines to protect the CAT6 capability for the best performance as it meant for. Many of the cabling installations loose its purpose by the pulling activity and violating the twist pattern and improper terminations.
To meet the 10G Copper backbone requirement, many of the vendors came out successfully and is being put mainly among the server clusters arranged within the Data center to contain the length within 90 mtrs.
To meet 10G at present and/ or multiple of 10G requirement in future, single mode fiber cable are put in use safely, which can be used to the present and future data backbone technology. This can be indoor type, if meant to connect the cluster of racks in the floors away by more than 90 mtrs. Redundant backbones also, shall be planned via alternate routes for double safety.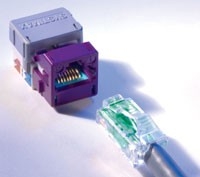 A few of the cable vendors are valued best worldwide, who are closely taking care of the quality during the manufacturing process to conform specification to assure and provide more working margin to the end users, than of minimum values meant for the Category. They are Systimax, R&M, Molex, AMP, Beldon, Corning and Finolex in order.
Cable construction details will differ from vendor to vendor and to application also. Some of the vendors are making cables in common to meet the price front also, which may not be suitable to the application meant for. Cable substitution will not work for long. One has to choose for the applications and environmental conditions explained.
Star topology is the best for fiber backbones centralizing the fiber switches centrally in the data center and modules in the remote locations and also for copper too for a trouble free working forever.